Sámuel Nemessányi Félix Violin Making Competition between 30th of June – 1st of July 2022
30.000 € prize for the best violin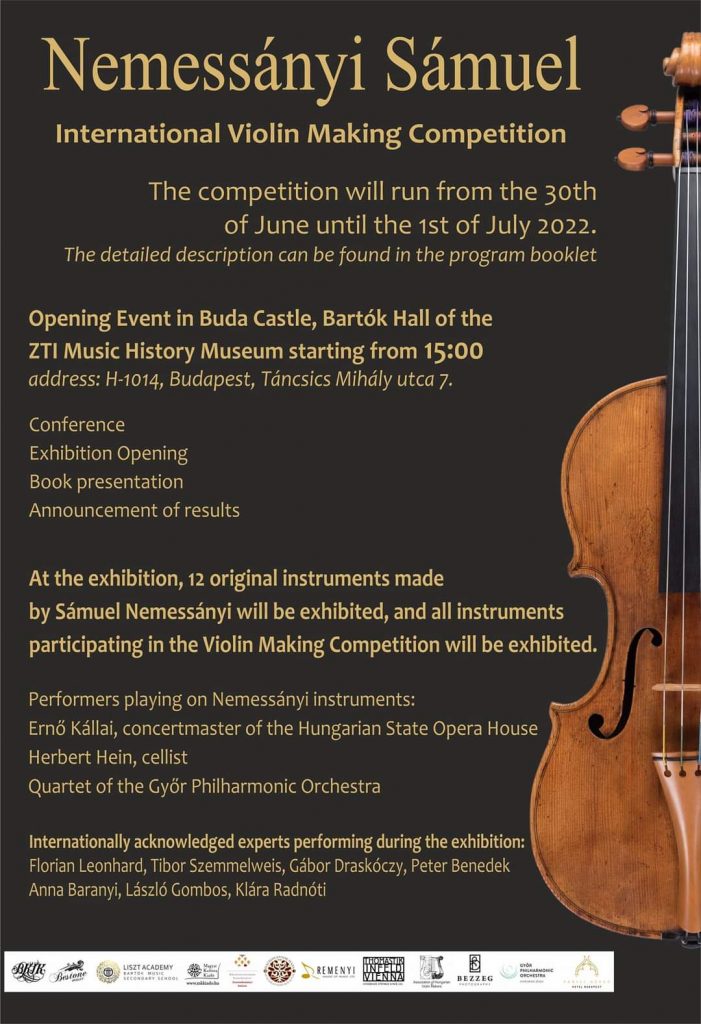 The competition, which aims to create the most accurate copy of Nemessányi Sámuel, will be held between th 30th of June – 1st of July 2022. The most important venues of the competition and the exhibition are the Institute of Music History at the Buda Castle – Museum of Music History and the Liszt Ferenc Academy of Music.
All the instruments participating in the competition will be exhibited at ZTI, where the juries will also be judged. Meanwhile, concerts and performances will add color to the competition.
The entry fee is € 200, which includes a 4-page brochure detailing Samuel Nemessányi's life and high-resolution pictures of the violin in multiple views. In addition, the kit includes a plastic template for the violin for the interior design.
After the free online registration (http://nemessanyicompetition.hu), users will have access to photos of the violin in all directions, as well as a full size chart of the instrument.
Sámuel Félix Nemessányi, an instrumental genius, was one of the most famous figures in violin making in Hungary, and his performance is rightly called the non plus ultra of the profession. His life was tangled, wild, unlike his masterpieces, which are always excellent, internationally recognized and respected pieces. Nemessányi's name can be mentioned with his greatest masters, Antonio Stradivari, Guarneri, Nicolas Lupot and Jean Baptiste Vuillaume, or with the Gagliano and Scarampella families. His work was a major part of the study and imitation of the first two masters. The character of his instruments fully reproduces the 17th-18th centuries. century Italian style.
Unfortunately, the Master's life was short. He was born in 1837 in Lipótszentmiklós, and died in 1881 in Budapest. He began his student years in the workshop of János Schweitzer and Tamás Zach in 1855, and after becoming independent he had only 23 years to develop and showcase his talents. During this very short time he became a well-known and respected figure in the Hungarian musical life. The music world is constantly flooding with new orders. His work was characterized by high quality, continuous high quality. As a result, some of his instruments have survived being re-labeled as Italian instruments.
The aim of the international triennial competition is to pay tribute to the work of an excellent Hungarian master and to spread the word about Hungarian instrument making to the widest possible audience. In 2022, the contestants will have a sample instrument made by Nemessányi after Antonio Stradivari's violin in 1865 and once owned by Anna Halász, a Hubay student. It was provided by Michael Reményi of Canada (co-owner of the violin Jim Warren from Chicago), who is a lover of Hungarian stringed instruments. Mr. Reményi's family has long been known for its expertise in stringed instruments. His grandfather, Mihály Reményi (1867-1939) learned the profession from Ede Bartek, who was an assistant to Samuel Nemessányi. His uncle, László Reményi (1895–1964), a violin master, was an internationally recognized expert in cataloging the Nemessányi instruments. Nemessányi's Samuel was published in Chicago in 1950 by Violins and Violinists.
The aim of the competition is not only to present the country's professional past, but also to allow violin masters to test themselves and compare their knowledge with their peers at international level. And we have a great opportunity to show us what our violin makers can do. In addition, we aim to create a tradition with competition and, if possible, expand it with additional competitions, shows and presentations.